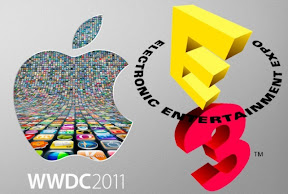 Tech Beever may be going through a site over-haul, but we'll be taking a break to make sure we push out all the E3 and WWDC 2011 news we can.
Later today (around 6:00pm) we'll have the official unveiling of Apples Mac OS X 10.7 Lion, iCloud and iOS 5. Will it be a major update of Apples brilliant, yet ageing iOS? Or just tweaks? We'll soon know.
And what of this iCloud? Will it be on online streaming service? We'll have to wait and see, but it's only a few hours away...
This week will also see E3 2011, and it's going to be a good one.
Nintendo will be showcasing it's new console, currently known as Project Cafe. Will it be a home console to deliver HD graphics to compete with the Xbox 360 and Playstation 3? Will it have the mythical touchscreen controller/display?
Speaking of Playstation, we can imagine Sony will be bringing more information on the NGP (rumoured to be called PS Vita, which translates Playstation Life) at E3.
Regardless, it's going to be a busy week, but we'll keep you updated!