Sony are holding a press event in Tokyo today, and has unveiled two, yes two Android 3.0 (Honeycomb) tablets.
The first is the 9.4-inch S1 tablet, which has a curved top much like a folded magazine along with both front- and rear-facing cameras. The S1 features a Tegra 2 SoC and customized "Quick and Smooth" touch panel UI with "Swift" web browser. A neat feature is that it can also be used as a remote control for Sony tv's and other kit via integrated infrared.
The second tablet is the dual-screen S2 clamshell with its pair of 5.5-inch 1,024 x 480 pixel displays, Tegra 2 SoC, and camera.
We expected the S2 to be extremely bulky, but looking at the photos and video from
Engadget
, aswel as the press shots, it's surprisingly slim.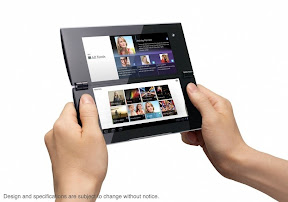 Both the S1 and S2 are PlayStation Certified, support DLNA, and are WiFi and 3G/4G "compatible" according to Sony.
Hit the link below for a full heads up on the S1 and S2 along with more photos and video.
<<
Engadget: Sony S1 and S2
>>